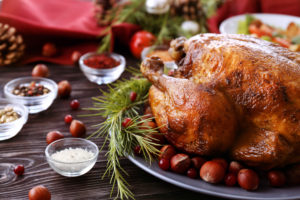 The holidays can be difficult on your waistline. You'll attend parties, dinners, get togethers, and even more parties. But you don't have to go into hibernation just to avoid gaining a few extra pounds.
We have compiled some jolly advice to help you navigate the holiday season. There are easy and tasty ways to enjoy yourself, and, best of all, you can still come out in January with a jump on your New Year's resolutions.
1. Overeating is the largest pitfall, and the one that entraps most of us. To avoid this:
Treat yourself to veggies and fruits before your meals.
If you are going shopping, pack fresh veggies, a granola bar or an apple.
When you attend parties, bring a fruit or veggie tray as your contribution.
Drink plenty of water. By drinking water, you not only saving your calories for the more delicious treats, but you actually notice you feel more full when it comes time to eat.
2. Avoid high liquid calories:
The average latte contains 250 – 500 calories. Add that to the meals you will eat and you're sure to have an overload of calories.
A 12 oz soda contains around 39g of sugar. That much sugar will only make you crash and increase your hunger.
Alcoholic beverages can be packed with calories and it's easy let how many you consume get away from you.
Indulge with you favorite flavor of GreenTeaHP. Not only are they delicious, but they help hydrate and keep hunger at bay.
3. Stay active. The winter is a great time to get out with your friends and family.
Build a snowman.
Turn your shopping into a workout.
Try sledding, skiing or snowboarding.
Go ice skating.
We all want to enjoy the holiday season, but no one likes starting the new year off behind schedule. Take these little steps now to ensures you enjoy the season and stay on track with your goals.