The first time I met Mohammad was in early October, 2010 at the Dubai International Airport. We had just arrived from a six and a half hour flight from Paris. It was approximately midnight and I was looking forward to a good night's sleep.
But, upon greeting us, Mohammad insisted on giving us a tour of the city. When it comes to cutting things off when I'm tired and want to go to bed, I'm no shrinking violet. But, much as I wanted to do so, I didn't. I was fascinated by Mohammad's manner.
Honestly, it was hard for me to resist the exotic allure of an Arab dressed in a white robe and head covering. This was the first time in my life that I had the opportunity to interact directly with someone such as this. Also, it was like being in a Tom Clancy novel as our bags were quickly whisked to luxury cars. My wife and I were escorted to a chauffeur driven Range Rover, and my son, Roger, to a Mercedes Benz sports car.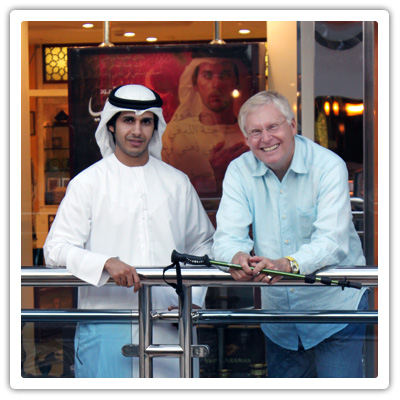 Off we went. To where? I had no idea. It was Mohammad who had taken care of all our accommodations. At one point in our race through the streets of super modern Dubai, Mohammad became concerned that we had not eaten, so he had a restaurant, which had closed down for the night, open up so we could eat.
Finally, at about 4:30 a. m. we pulled into the five star Palace Old Town Hotel in downtown Dubai. We were shown to our rooms without checking in. There were two suites awaiting us, one for Roger, and the other for Cheri and me. They were equipped with a full kitchen, which was stocked with food and drink, a lovely living room with a large basket of fresh fruit on the table, a full dining room, a separate master bedroom, and a luxurious bathroom.
Mohammad told us to get a good "night's" sleep and he would be back to get us when we called him. He told us that our chauffeur was on twenty four hour call and was at the hotel if we needed him.
It was already daylight when we climbed into bed. Before I did so, I opened the curtains for a peak outside and was surprised to find that we were surrounded by beautiful pools and canals of water that led to the most elegant building I had ever seen. The Burj Kalifa, the tallest building in the world at 160 stories of glass and steel, seemed to spiral ever upward.
By the time I put my head down on my pillow, I was so overly stimulated that I could not immediately go to sleep. "Who is this Mohammad?" I kept asking myself.
I was soon to find out.
Mohammad's grandfather led camel caravans from city to city in what is now the United Arab Emirates (UAE). His father on the other hand was a falcon trainer, who had taught falconry to the future Crown Prince of Abu Dhabi. Abu Dhabi is about a two hour drive from Dubai, and is the richest city in the world with a sovereign wealth fund just south of one trillion dollars. Dubai and Abu Dhabi are two of the major cities which help to make up the Federation of the United Arab Emirates (UAE).
As for Mohammad, early on he choose to go to America and Great Britain to secure an education in technology. Eventually, he returned to the UAE and accepted a position working in information technology. However, as I was to learn, Mohammad's interest lay far beyond technology.
While receiving part of his education in Denver, Colorado, Mohammad came across one of our GreenTeaHP (GTHP) kiosks in a mall. He tried the product, liked it, and found out that he could open his own kiosk and become an owner operator. When he returned to the UAE, he did just that. He worked hard at making a success of his first kiosk, which then allowed him to open up two more. It was at this point that Mohammad contacted Roger and invited him to visit the UAE to explore the possibility of expanding GTHP throughout the entire Middle East, including Saudi Arabia, Bahrain, etc.
Roger accepted the invitation and invited Cheri and me to join him.
"I Would Give My Right Arm"
As we recuperated from our flight and early morning tour of Dubai, we started having a series of meetings with Mohammad, which included visiting his kiosks, meeting his general manager (a very hard working Filipino young woman who was exceptionally pleasant and professional), talking to his employees, and finally having dinner with his family. After three days of this, we finally sat down and talked about how and when we might expand into other countries.
As we did, Mohammad again caught my attention when we started talking about Saudi Arabia. "I would give my right arm for the GTHP license for Saudi Arabia," Mohammad declared. It was at this moment I got a bead on who Mohammad really was. Mohammad was at heart an entrepreneur. Entrepreneurs stand outside of culture. Whether rich or poor, male or female, young or old, Middle Easterner or American, entrepreneurs trade risk for opportunity in business.
I concluded that Mohammad was not driven by having a safe and prestigious job in the government; he was driven by an inward desire to own his own business, and to build that business from the ground up. The more I listened to Mohammad, the more I concluded that he was "one of us."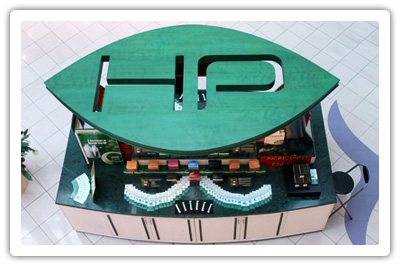 Entrepreneurs are a breed unto themselves. Most people are not aware of the sacrifices that entrepreneurs will make to create new businesses. When Mohammad says he would give his right arm to have the GTHP license for Saudi Arabia, he's close to meaning that literally. Entrepreneurs make sacrifices that the majority of people neither understand the depth of, nor would ever be willing to do themselves. For an entrepreneur, it's about putting everything they have on the line for the chance of creating something of economic value. When I started my entrepreneurial venture as a young man I would say to myself, "I would rather wake up at fifty and say I tried and failed, than never have tried at all."
The result of this characteristic is that over the long history of entrepreneurialism, it has always been the entrepreneur who has been the initial engine of wealth and job creation in the world. Where entrepreneurs have not been allowed to flourish, economic decay has set in. Russia and China were examples of this for much of the twentieth century.
Mohammad is an entrepreneur. As long as young people like Mohammad are allowed to engage in wealth creation, places like the UAE will continue to flourish and prosper.
I am happy for Mohammad and happy for the future of his country.