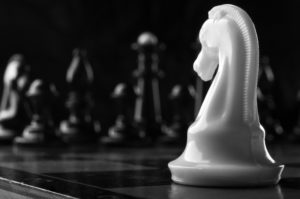 In business there are only two ways to work with people. You hunt for white knights or you totem pole.
White Knight
In thirty years of consulting, when done correctly, the execution of a white knight strategy has resulted in more significant growth for a company than any other strategy I have witnessed.
A white knight strategy is defined as hiring someone in at a critically needed category who is materially better than the best person you presently have.
I've witnessed the hiring of hundreds of corporate executives, but the only time it results in significant growth for the company is when the person is head and shoulders superior to what the company already has.
Executing such a strategy doesn't just happen. If you are the executive running things, the most important activity you need to engage in is being out and about meeting people. Over a period of time you will develop a list of superstars in their areas of specialization.
You need to get to know these people personally, and stay in touch with them. Then when the need presents itself, you go out and do whatever you have to do to bring the person into your company, even if it means paying them more than the other guys you already have.
The best time to bring a white knight in is when the need is greatest, not necessarily when a slot opens up. And in business the time of greatest need is when the company needs to grow.
Probably the best white knight hiring I've experienced happened in San Francisco.
A broadcast company had purchased two radio stations in the city, one of them being the famous brand name KOIT-FM. The company's conservative culture clashed with the city's liberal culture. After several years of struggling to grow the stations, the regional executive decided that something daring had to be done.
He knew a radio manager who had come up through the ranks of programming in Michigan and Illinois. The hardest thing to find in the broadcast industry is strong product people. One in a hundred is good. One in a thousand is brilliant. This guy was brilliant. Without hesitation he was hired and paid very handsomely. The first thing he did when he arrived in San Francisco was hire an additional product guy who also was a "one in a thousand product guy." Complaining started that the station was overloaded with too many product people with salaries that were too high.
Quickly, station ratings started turning around. Just as quickly sales started growing. The best product consultants were hired to come in to lend support. The criticism continued to mount about the station being obsessed with product, product, product.
That was twenty five years ago, and for twenty years that one station built the best musical format in the country, and produced 40 to 50 % profitability every single year. It was the most efficiently run station in America. It was the purest musical format I had ever heard. It made the parent company rich.
The only time it started to falter was when the station was sold to another company. They replaced the white knight who had been hired twenty years earlier. A couple years ago, I was asked why the station started having problems. "Easy," I said. "You got rid of your white knight. Single handily, he brought in over a quarter of a billion dollars in pure profit." They were surprised when I said that, because the new ownership thought that he was over paid, and that he carried too many product people who were also over paid. Ironic.
The guys who decided that are now toast. The music format has lost touch with its audience. Sales are way, way, way down. They were arrogant. They were unable to see how important it is to have white knights. Those guys lost their jobs. They were arrogant. They definitely were not white knights themselves.
Totem Pole
When you are managing people in a company, you need to be performance oriented.
Every person needs to know where they stand in the organization. They need to know whether they are in the top third, middle third, or bottom third of the organization vis a vis PERFORMANCE.
If they are in the bottom third, they need to know they are on the bubble. They should be told very specifically where they need improvement and by what date they need to be rated at least in the middle one third.
If they aren't they will lose their job.
The bottom third of any organization is the hardest to manage. Bottom third workers account for as much as a 10% loss in profitability over time.
As a consultant my biggest challenge is to get managers to work consistently at totem poling. When there is a possibility of a regular turn over in your worst workers, it puts a heavy burden on the manager to bring in highly qualified new employees. But if as a manager you can't keep up with this critical function it's only a matter of time before you will probably lose your job.
Conclusion
There are two ways to work with people in business. You bring in a white knight to grow the company, and you totem pole to ensure that your least productive people improve or are released.