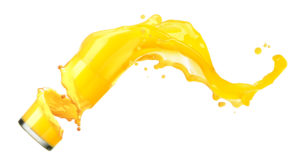 Juice is often perceived as healthy.
That's understandable, given that it is natural and has the word "fruit" in it.
However…what many people fail to realize is that fruit juice is also loaded with sugar.
In fact, fruit juice contains just as much sugar and calories as a sugary soft drink… and sometimes even more.
The small amounts of vitamins and antioxidants in the juice do not make up for the large amount of sugar.
See for yourself!!!!
Kern's Nectar Peach
– 200 calories, 42 g sugar
Minute Maid Premium Fruit Punch (8fl oz)
– 120 calories, 31 g sugar
Welch's Berry Pineapple Passion Fruit (8 fl oz)
– 140 calories, 33 g sugar
Newman's Own Virgin Lemonade (8fl oz.)
– 110 calories, 27 g sugar
Sambazon Acai Original Blend
– 200 calories, 33 g sugar
Simply Orange Original Pulp Free Orange Juice(1 bottle,13.5 fl oz)
– 190 calories, 41 g sugar
Ocean Spray Cran-Pomegranate
– 120 calories, 30 g sugar
Looking for a less sugar-packed-drink? Maybe something designed to, say, deliver key nutrients to improve your health rather than sabotage it?