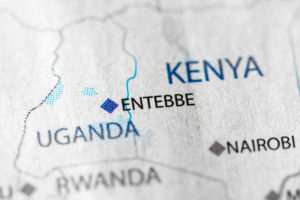 It was July 4, 1976, I was eating breakfast in downtown Jerusalem when I heard that commandos from Israel's military had rescued "103 Jewish" hostages held captive by Arab and German terrorists at  Entebbe Airport in the African nation of Uganda.
Until that moment, no one had any idea how hostages could possibly come out alive in such terrible circumstances. Our collective imaginations, at that time in history, had not yet grasped  that rescue missions of the magnitude of this one were even possible.
There I was, in the country that made the rescue, feeling like a new world had come into existence. Was there nothing Israel could not do?
Excitement built as the rescued hostages landed in Tel Aviv, Israel around noon. Tel Aviv is  a little more than forty miles west of Jerusalem.
There was jubilation going on all over Jerusalem. Horns honking, young and old dancing in the streets to traditional Jewish songs and music. I too was taken up emotionally by the historic act Israel had just pulled off.
Equally touching for me was  looking up and seeing American flags hanging from light standards that day. Israel  was celebrating America's two hundredth birthday. The greatest rescue mission in history, carried out by this small isolated nation in the Middle East, celebrating the birthday of the greatest democracy in the world, imprinted on my being what it is to witness first hand the feeling when great human efforts transcend the forces of nature. I could ask for no more bold moment to influence my future thinking.
This all happened on my very first visit to the Middle East. I have returned many times since in different capacities, but through it all, the Raid On Entebbe is the outline through which I measure the destiny of that part of the world.
Nothing was normal that day. It was as if  I had been in a dream state and none of the events seemed completely coherent. Moments of great history rarely are. I know that when times look most intractable, dramatic events can and do happen. I experienced one that day in Jerusalem, Israel, July 4, 1976.