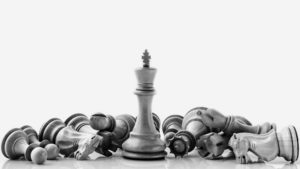 When something is simple and beautiful at the same time, you root for it to be true.
Such is the case with a "product strategy."
A product strategy is one of 16 strategies that I started creating thirty years ago when I became a management consultant. A strategy is by definition a "way to accomplish a goal." Hence, there are about 16 ways to accomplish any goal, and a product strategy is one of them.
Every business person on earth prays for a good product, even atheists. It is the backbone of all capitalist pursuits. If you have an excellent product that consumers crave, you have everything you could ever hope for as an entrepreneur.
Breaking A Product Into Component Parts
Sometimes, if not most of the time, a product does not start out being something the consumer desires. This is when the execution of a good product strategy is in order.
It starts with breaking down your product into its component parts. Then, one by one, you improve each component. You do this until the consumer bites, and then you give the consumer every bit of that component of the product that the consumer demands. You keep doing this until the consumer is completely satisfied.
Let me give you an example.
Chicago's Classic Rock Radio Station
About ten years ago (2001) one of my broadcast clients in Chicago bought a radio station that played classical music. No one was listening. So my client took the format off the air and put a new one on. It was a "Classic Rock Format," geared toward a male adult audience.
Every component of that format was individually and painstakingly examined. For example, the music had to be just right: mid to late 1960's hits, and all 1970's hits (Fleetwood Mac, Aerosmith, The Rolling Stones, Bruce Springsteen, The Beatles, etc.) The disk jockeys had to be just right for the male oriented audience. The commercial load had to be minimal so that the pure rock sound wouldn't be interrupted. (No R&B or Soul formats with this particular demographic). These were all considered components of the classic rock format.
It took a few months of fine tuning to get all these components right for an audience demanding a harder but familiar beat from classic rock hits. No detail of the format was too small to go unattended. Slowly, adult males started tuning in. But, then there came a time when these adult males started consuming the music in very big numbers. The reason was that the play list had become very tight. The station didn't play a lot of songs; only the hits that had a classic rock feel to them. The more the format focused on executing that particular component, the more males came, and the longer they stayed.
The Most Played Song On The Classic Rock Format:
Over the ten years, the station has dominated the adult male landscape in Chicago radio. The males have aged ten years, but the songs have only added five additional years of new hits. Males want classic rock with only minor tweaks. And new, younger adult males have come aboard to replace those that fall off when they reach 50 to 55 years of age.
It's a beautiful product. So simple, so elegant. And over 10 years it's produced millions of dollars of revenue each year with millions of dollars in profits. The initial investment has been paid off long ago.
Good Products Make Capitalism Work
People who create great products are, in my estimation, geniuses. In Chicago it was a fairly young guy by the name of Greg Solk, who created one of America's great classic rock stations. These kind of guys make capitalism work. Without great products, capitalism is nothing more than a slow build up of debt without any offsetting increase in economic value. Conversely, with great products, capitalism is the process of building up new wealth that leaves the owner, worker, and consumer better off.
Personal Application
A product strategy not only makes sense when improving consumer products, but works well when you are trying to improve your personal life. For example, our lives are a composite of many parts or components. We have our personality, our physical body, and our intellect. From there we can break down these three components into smaller components. Our personality, for instance, can be broken down into our emotions, our attitudes, the words we use, etc.
The key to success on a personal level is not to attempt to improve everything about yourself all at once, but to take one component at a time and improve it, until you feel that a break through occurs. When it does you keep improving that component until you are satisfied that you have received every benefit possible.
For example, as a management consultant, I have broken down every component of the service I offer to my client. Part of that includes, from the personality side, how I behave when I'm with demanding executives.
I have observed that one component in particular has made a big difference in my consulting success. It's the quality of listening. I have worked on being an intense listener. I work on trying to deeply understand what someone is saying, and then say back to them, "This is what I think you are saying."
When people in high positions of leadership feel that someone is really trying very hard to understand what they are saying, their tendency is to place more trust in that person. It's probably the most powerful tool I've ever cultivated in business.
Who would have thought that listening would have been the component that broke things open for me in consulting?
You can't overlook anything if you are serious about improving a product, or improving yourself.
Long live a product strategy. Beautiful thing that it is.