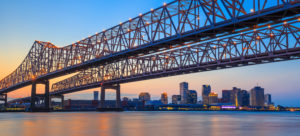 I visited  New Orleans
and saw all there was
of the Mississippi River.
Then I went to St. Louis, and said,
what's that river passing by?
The great Mississippi passing by,
a voice said.
It's  longer than I thought, I said.
I was in Minneapolis and saw
a river flowing through.
That looks like the Mississippi, I said.
The guy driving said,
Yea, that's the Mississippi flowing through.
My wife said,
the Mississippi is the fourth longest
in the world. I said,
the first three?
Amazon, Nike, Yangtze, she said.
I paused for a moment and said,
I've been on the Nile and watched
the Yangtze passing through.
I then said,
I saw the middle of the Mississippi
passing by.
It was in Hannibal, Missouri
when  I saw the middle part
of the Mississippi passing by.
I said, I've seen great rivers
flowing through.
But I grew up looking at a ditch
that didn't pass by.
It was the San Gabriel River.
Why call it a river
if it doesn't pass by?