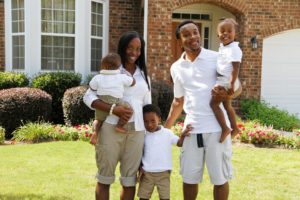 I could sense that my mother and father in-law were proud of their new found middle class accomplishment, as they attended a family reunion in southern Ohio.
Of the many photos I looked at from that event, it was obvious that they were excited about their new 1956 Chevrolet, their three well dressed young daughters, and their newly minted status as southern Californians.
Both had found their way to southern California in their late teens during the Great Depression and World War II. Marcella came with a girlfriend to experience the adventure and allure of Hollywood, as well as to find work. Charles had passed through on his way to see action in the Pacific during World War II.
Both had come from areas of America hardest hit by the Great Depression. Marcella was from Missouri, one of the states hit by the dust bowl described by John Steinbeck in his novel "Of Mice And Men". Charles was from a particularly poor region of eastern Kentucky.
They met, married and settled in the mild climate of Long Beach, California. As a veteran, Charles qualified for a low interest loan to purchase a home under the GI Bill. Along with other veterans and their families in southern California, Charles and Marcella became part of history's greatest residential building boom. With the training he had received in the Navy, Charles secured a good paying job at Mobile Oil as a machinist, and Marcella eventually was able to finish high school. They saved a percentage of their income every month, and soon graduated from the rural poverty of their roots to the middle class of sunny California. They were living the American Dream.
The Return
Now it was time to return to those roots for a visit. It would be Charles' family that they would visit first.
From the photos, you could tell that a few of his family members were still not too well off. On the other hand, I was surprised to see that the majority of them looked pretty good. Because of this, I did a little follow up research. I found that many of Charles' family members too had been able to enter the ranks of the middle class, though by different means.
Kentucky had been especially hard hit by the Depression. From Charles' written account, farm soil throughout that region had been depleted, families had lost their farms in the financial meltdown, and money was in short supply. But with help from federal programs like The Civil Conservation Corps (CCC), Charles and his brothers were able to travel to others parts of the country and secure work and get paid and send money back home.
At least three of the brothers served in the military during World War 2, with one becoming a POW.
In addition, seven states, including Kentucky, were redeveloped by a federal agency set up to provide the area with electrification, soil regeneration, agricultural training, and fertilizer manufacturing. The agency was called the Tennessee Valley Authority.
It seemed that a combination of all these federal programs had gone a long way in not only helping Charles and Marcella enter the ranks of the middle class, but Charles' extended family as well. Whether one had moved to California, or stayed in the region close to Kentucky, most had been helped in some way. As a result their lives had improved, and the birth of the middle class had risen like a Phoenix out of the ashes of depression and war.
What Remains?
Charles and Marcella have now passed on, along with most of their generation. But was their greatest accomplishment left behind for new generations to enjoy? Has the middle class they helped to create been maintained?
For me, that is the most important question of our present time. In my opinion, the middle class is in need of some very serious repair. Over the past twenty years, things have occurred that have threatened the ongoing vitality of the middle class.
One in particular comes to mind. It is the growing wealth gap taking place in America. The facts speak for themselves. According to Francis Fukuyama, in 1974, the upper 1% of wage earners took home 9% of GDP (Gross Domestic Product or the amount of business conducted in one year.) In 2007, the upper 1% took home 23% of GDP. The wealth gap has grown.
Charles' and Marcella's achievement was to build a middle class bridge between the haves and have nots. They climbed over that bridge themselves. They went from poverty to lower middle class to middle class living. Their children went from there and crossed over the bridge.
There was no wealth gap. They and theirs bridged it. But if Fukuyama's data is correct, a good argument can be made that the bridge has been snapped, and most of the money has been trapped over on the upper 1% side.
I don't know what Charles and Marcella would say about this, but I am sure that if I gave them a choice between class warfare between the haves and have nots, or concentrating on reconnecting the middle class to the upper and lower classes, I'm pretty sure they would pick the latter.
They might even recommend that we go back and see what we can learn from the depression years. Indeed, those were powerful years, and Charles and Marcella experienced it all, and came through it with flying colors.