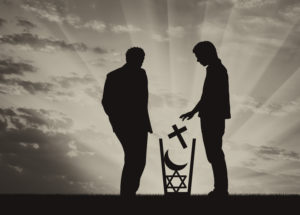 When asked their religious affiliation, approximately 20% of Americans now answer "No Affiliation." That's 46 million people. And the vast majority of those are individuals under the age of 30.
This group has been given the name of "Nones."
These Nones are also referred to as Millennials because they were born roughly between 1983 and 1997. For this article I will refer to them as Millennial Nones or MN's.
How Big Are MN's?
MN's outnumber any single Protestant denomination, the largest being Southern Baptists with 16 million members in America.
MN's are second in numbers only to the Catholic Church which represents 22% of the American population or approximately 66 million members.
MN's haven't stopped growing. Over the next two decades, some estimates put the total population of Nones in America at around 30% or 90 million.
What Happened?
What's happened to this group? Have they become immoral and super rebellious?
Let's see:
– Teen pregnancies have dropped.
– Violent crime is lower.
– Drug usage is about the same as with any preceding generation, with the exception that MN's are very concerned about what they put into their bodies.
– Except for education, credit card debt is down.
– Marriage occurs, but at a later date.
– Political sentiment is more independent and down the middle, though they do tend to vote democratic.
– Racial harmony is at an all time high.
It looks like MN's are as law abiding and moral as any group having gone before them. If anything they are more skeptical and cautious in their decision making, especially when it comes to joining any form of organized religion.
It's not that MN's are any less spiritual than others, it's just that they're not as inclined to join traditional religious congregations to meet those kinds of needs.
Why?
MN's are the first generation to be born into the Internet Age. To them the Internet has always been there. They have no familiarity with anything like a record player, or a dial telephone, etc.
It's still not clear why this generation, teethed solely on digital technology, has less desire to be associated with organized religion.
Some articles suggest two possible reasons. One, MN's are guided by information not organization. And two, MN's are turned off by what they see is hypocrisy in organized religion.
If these reasons are true, and present trends continue, in two decades or less you will see organized religion's activity rate dwindle to a fraction of what it is today.
This is an uphill battle for those who lead traditional religions. One I do not envy.
With this in mind, I sat down the other day, and asked myself if it were up to me, what would I do or not do to ensure that my particular religion did not lose MN's. Here's my attempt.
Don'ts
1. Don't manage the information you share with MN's.
MN's are not oriented to take in information from one source solely. In fact MN's have so many sources of information through the internet, multiple sourcing has become second nature to them. They're no longer wired to trust one source of information exclusively.
Traditional religions try to hold their members to one source of information – their own. Organized religion rejects the notion that people other than themselves can get things right about issues like the nature of God.
This has created a disconnect between the MN's and organized religion.
2. Don't artificially set up either/or alternatives.
In a world based on information, MN's do not easily comprehend the notion of either/or choices. MN's are very cautious, almost slow, to make decisions. They weigh all sides of any issue from multiple sources. They don't understand the notion of either you pick the right way or you will be left choosing the wrong way.
Because information is so plentiful, MN's think along horizontal continuums. To them there are an infinite number of choices with many subtle nuances. Things are not always completely right or completely wrong. To them choices are customized to meet personal needs.
MN's feel comfortable in picking and choosing what parts they like and which they don't. It's not all or nothing with MN's. This is the patch together generation.
Traditional religions are not comfortable in recognizing, let alone supporting, members of their congregations who are comfortable with ambiguity. Traditional religions want commitment and dedication to their brand of truth. MN's are not inclined to do that.
3. Don't withhold information.
Don't give MN's selected information. If you don't make all information available to them directly, they will quickly seek out alternative sources.
Traditional religions have been guilty of sequestering information, and avoiding taking responsibility for their errors. If MN's are good at anything it is acknowledging that the world is not a perfect place, and mistakes are made by the best of people, religions being no different.
But, to do this MN's must have access to all available information, and a place at the table to weigh in on these issues free of the possibility of censure or retaliation. In other words they must be direct participants in helping to build a better religion.
Do's
1. Consider communicating with MN's directly.
Religious leaders now have the capability to communicate online with people. MN's live that way. MN's are more interested in established an online relationship than they are in hearing a static message from an authority figure from behind a wooden pulpit.
MN's believe they can disagree with an authority figure while still having an online relationship with them. If fact MN's are not quite sure what an authority figure is. As far as MN's are concerned, everyone is on an equal playing field.
MN's would feel very comfortable communicating with someone like a Cardinal in the Catholic Church, who had a twitter account, and INFORMALLY engaged MN's through it.
2. Do your communicating in an unvarnished manner.
Prepared pulpit talks do not register at any emotional level with MN's. Anything that appears contrived or prepared loses the attention of MN's. Meaningful communication takes place on a digital basis, and is fast, lively, INTERACTIVE, and to the point.
3. Experiment with new ways of worshipping.
If attendance at traditional Sunday meetings is waning, consider having worship services over the Internet. Let MN's pick when they will participate, how long they will participate, and what material they choose to embrace.
Traditional services would then turn into an occasional occurrence where socializing, eating, singing, dancing, and group discussions are made available. This might take place once every month or two.
MN's are not complete social media freaks. They enjoy interacting face to face, but they do believe that the essential tasks of life should be carried out digitally. They don't even like using the telephone: too long, too laborious, too complex.
Conclusions
If religious leaders consider the above ideas unworthy of their efforts, then they'll probably have to come to grips with active participation in their churches going down to 10% to 15% of what they presently are. And that is probably 30% to 40% of what it was twenty years ago.
The youngest MN's are now sixteen years old. By the time they are thirty, they will be full MN's. That's when congregations will have seen the full extent of the shrinking of traditional religion in America. That's a little less than fifteen years away.