The master of ceremonies called my name. As I walked to the stand to receive an award, I was petrified that I would choke, not be able to breath, and die right there on the spot.
You see, I had viral pneumonia. I had been in bed for a week and gotten up to attend the awards ceremony.
As I began to speak, I could feel my throat tighten up. I measured my words. I knew that if my voice raised, my wind pipe would be cut off.
For a moment I stopped in mid sentence and considered walking off the dais.
But the award was an important one to me. It came unexpectedly. I thought that if I were to die, this would be a good place to do it. I marshaled on.
In 1982 I was invited to do a twice daily radio commentary covering social, political, and economic trends. The call letters of the radio station were KBIG-FM, 104.3. It was one of the most successful radio stations in Los Angeles. There was only one other person on the station who did commentaries and that was Wina Sturgeon. She was an excellent radio journalist. Her voice and writing were near perfect. Her husband Theodore Sturgeon was one of the great science fiction writers of all time. He wrote some of the original Star Trek episodes. I was a light weight in heavy weight company.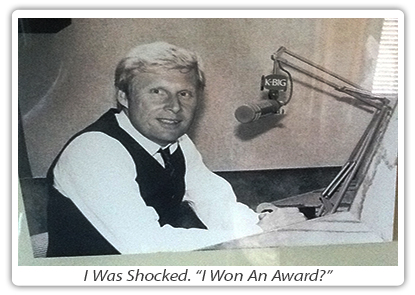 I still can't explain entirely how I landed the job. I had no professional broadcasting experience. I was a religion teacher, not an economist, political scientist or social scientist. It was one of those rare random events that happens without clear cut reasons.
Anyway, I started doing these daily commentaries. It was rough. I wasn't a good broadcast writer. People would complain that it sounded like I was reading academic papers. I wasn't a good sight reader. I would do these reports over and over again. I simply had a hard time reading a 60 second commentary without goofing up. And worst of all I had latent prejudices that came out once or twice. In fact the Anti-Defamation League once made a formal complaint about one my commentaries.
My producer and director (Grant Nielsen, now the Grant of the KSL morning show, Grant and Amanda) kept working with me. Sometimes it would take three hours to do five sixty second commentaries. Edit, rewrite, tape, re-tape, edit, etc. It was painful. Gradually improvement was made.
Then one day in 1987 the station manage, Kari Winston, called me and said the Los Angeles Commission on Human Relations had awarded me " The John Anson Ford Award" for excellence in radio broadcasting for fostering better understanding between ethnic, racial and minority groups in Los Angeles.
I was shocked. "I won an award?"
The next thing I know I'm seated on the dais of the Dorthy Chandler Pavilion awaiting to be honored for creating civility between people of different colors, cultures, and origins.
I felt a better me had come out and been recognized by a thoughtful listening audience. What's more, I didn't even know it, while I was doing it. It was one of the most personally rewarding moments of my life. If I were to die at that moment, I couldn't have picked a better time – I'm always good for a little bit of drama.