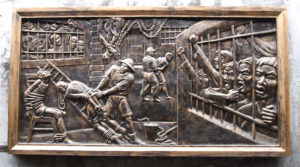 The poet's simple pleasures were sipping green tea and smoking cigarettes.
For years he was tortured while imprisoned in communist Vietnam. As a teacher he told his students the history books were wrong. It was America, he said, who defeated Japan in WWII, not Russia. And for this, he was incarcerated and relentlessly brutalized in the 1960's.
Denied paper and pen, he created poems and memorized them, all four hundred of them. When freed, he wrote them down and delivered them to the British Embassy in Hanoi in 1979.
Again, he was chained and shackled for years in solitary. But his words were safe and released to the world.
They are among the most penetrating verses of a crucified soul ever written. They are full of unbearably dark pain. Yet, they describe an escape to an inner place where beauty was born.
His name is Nguyen Chi Thien. He died October 2 of this year in his new country – Little Saigon, Orange County, California at age 73. Here is a taste of his poetry.
They exiled me to the heart of the jungle
Wishing to fertilize the manioc with my
remains.
I turned into an expert hunter
And came out full of snake wisdom and rhino
fierceness.
They sank me into the ocean
Wishing me to remain in the depths.
I became a deep sea diver
And came up covered with
scintillating pearls.
From despair, the opposite awaits, if only inside you – no, especially inside you.