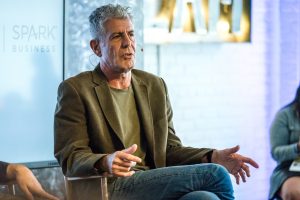 With Anthony Bourdain's suicide, I've been reflecting.
I've been on the road for 35 straight years.
When you're making your living doing this, you'd be surprised how many nights you spend alone in your hotel room eating potato chips as a substitute for room service and for meals with your buddies whom you've met during your journeys.
One of the things you notice about people throughout the world is how similar they all are once you get past their native dress, music, and food.
Casual, off hours conversations are the same whether you're conversing in the desert inside a Bedouin tent or in a Paris restaurant chatting with artists.
Truthfully, it can get a little bit tedious and maddeningly redundant after three decades plus of doing it.
No matter how worldly one becomes, the truth is, it's hard to beat being home.
My theory about Anthony Bourdain's suicide is that he was suffering from acute boredom which triggered severe depression.
I have suffered three bouts of depression in my life. Each one was ten years apart and was tied to my life as an entrepreneur who was constantly on the road.
During my third bout, and at my wife's insistence, I sought medical help. My doctor put me on a small anti-depressant pill that I take each morning. That seemed to solve the chemical side of depression.
The other was managing the growing boredom of being on the road.
That was simple: I got off the road, and followed my new bliss. I became a full-time essayist working at home.
For sure, there are many conditions other than boredom that trigger the cessation of chemical flow in the brain, resulting in the onslaught of a depressive episode. But as all of us who have experienced this hollowing out of our emotions knows, it must always be treated as a serious medical condition that requires immediate attention.