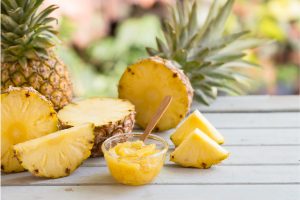 Yes, it's true. You can cleanse your body of harmful toxins while not sacrificing your taste buds. We're going to prove it.
First, let's talk about why you would want to detox.
Every day, your body faces a barrage of harsh chemicals and toxins. These come from everything from the water we drink, to the food we eat, to the air we breathe.
Our bodies do a very good job at removing many of these toxins through perspiration, urination and other natural functions, but we simply cannot always keep up with the blitz of toxins.
What can we do?
Here are 5 powerful foods you can add to your regular diet to stop the buildup of these toxic hitchhikers.

1. Beets: These delicious, root veggies are often an afterthought when it comes to setting your kitchen table. Beautifully bright red, beets are full of detoxifying magnesium, iron, zinc, and calcium. Plus betacyanin, that has cancer fighting properties.
2. Ginger: By adding ginger to your diet, your metabolism will spike, which flushes out waste. Plus, ginger has been found to keep your appetite in line.
3. Pineapple: Add it to your salads, your sandwiches, and your burgers for a tropical kick. Pineapple contains bromelain, a digestive enzyme that improves your digestion and helps cleanse your colon.
4. Green Tea: Thanks to its many antioxidants, green tea is a superstar of the detox process. EGCG, the antioxidant specific to green tea, not only cleanses the body of toxins, but can also replace other drinks throughout the day which can have the opposite effect.
5. Apples: An apple a day? You bet! Apples contain pectin, a soluble fiber which helps remove food additives and chemicals from your body. Enjoy an apple anywhere at any time.
There is no need for extreme detox regimens. They starve your body of the nutrition that you actually need and can even backfire.
Simply add some healthy detoxifying foods to your regular diet, to cleanse your body, your skin, and boost your natural energy.