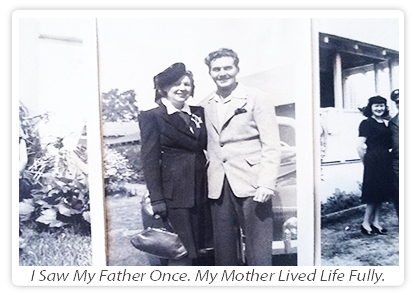 My father died when he was 48. My mother died when she was 58. I am 68. This year we are united by the number eight. The time is right to speak candidly of the three of us.
My father
I only saw my father once. I was very young, maybe three, and my mother took me to see him in the hospital. At the time he must not have been much more than forty years old. By this time my mother had divorced him.
His parents were Canadian and he was born in Seattle and migrated to Los Angeles either before or during the early years of the Great Depression, which started in October 1929. He eventually secured employment at Studebaker Corporation in Inglewood, California. Over a period of approximately ten years he worked himself up to where he was in charge of the entire plant of over two hundred workers.
By the time he reached the top he had met and married my mother. By their many photos, I could tell my mother was happy. She was married to a man she loved. Their material lives were impressive. They both dressed well, and purchased an upscale white Spanish style stucco home with a red tile roof, in Huntington Park, California. The purchase included an apartment complex and a duplex at the back of the property. The Depression years didn't seem to affect them.
My father was 48 when he died. By the late 1940's, it appears that his climb to success was over. What happened? What I have figured out is that he drank and smoked heavily. I don't know if this cost him his career, or rather maybe he may have lost his job and that started him drinking. It's usually the former, though I can't be sure.
At the time my mother divorced him, she refused alimony and child support. My father was restricted from coming to our home. I found out recently that he sent me birthday cards when I was two and three years old.
Maybe he cheated on my mother. All I know was she wanted him out of the house, but, according to my mother's sister, my mother never stopped loving him. According to my aunt, my father had a "wonderful" personality.
To me this has all the qualities of an American tragedy. A young man has all the momentum to be an American success story. He was progressing to the top of his company. He married an attractive young woman. They purchased property. They started a family. They traveled. They had money when most didn't.
And then there was some little personal flaw that started unraveling his life. A flaw that he probably didn't notice in the beginning.
In the end he died from throat cancer, usually caused by alcohol and tobacco abuse. I also assume he died with little or no money. His nick name was Bud. His full name was Percy George Clifford.
Do I long to know more? Indeed.
My Mother
My mother died when she was 58. I was very close to her. She was a natural blond but in the late 1940's dyed her hair red. She came to Los Angeles from Utah in her early twenties during the height of the Great Depression. She had graduated from LDS Business College in Salt Lake City, and secured employment as a secretary at one of the major defense contractors in Southern California.
From what I can tell from photos, she dated regularly during this period, and finally married my father somewhere in the mid to late 1930's. By 1946 or 1947 she divorced my father. At the time I must have been two, maybe three years old.
After my father was gone, my mother managed the apartment complex and the duplex she now owned outright. She was independent, saved money, and had no shortage of suitors. She remarried when I was four, and gave birth to a girl one year later.
Yes, I can remember a lot of get togethers at my mother's home, and, yes, there was a lot of drinking.
She moved to Long Beach, California in 1952, and became known as a shrewd business woman. She sold all the real estate in Huntington Park and bought a middle class track home. She continued investing in real estate and purchased stock. There was never a time when we did not have money. She managed it well, and never let it go into anyone else's name but her own.
One time she had financial problems with an apartment complex she owned in Lynwood, California. It worried her greatly, but she eventually sold it to a woman she considered smarter than herself. I grew up witnessing strong women managing their own affairs.
In my lifetime my mother never worked outside her home. She managed the properties she owned and her investments in the stock market. Because of this she has born a legacy of entrepreneurs among her children and grandchildren. She was the starting point.
I have one regret when it comes to my mother. In a couple of my earlier writings I was critical of her drinking. I regret that. While her spouses were heavy drinkers, and while she was a drinker, she was not an alcoholic as I erroneously suggested earlier. She was resourceful and never lost control of her destiny. She was disciplined and stood up for herself, and protected her children whatever the cost, witness the fact that she had a pool built so I could swim to strengthen my leg due to polio.
She loved Cadillacs and drove them around town with an attractiveness that befitted her.
She died of colon cancer. She died too young, but her life was not tragic. She lived life fully and successfully. To my recollection, she never complained about the challenges she faced, but actively worked to solve problems. She didn't allow other's problems to become her problems.
The Son
My father was 48 when he died in 1958. My mother was 58 when she died in 1968. And here I am at 68. Quite a pattern of similar numbers!
I probably didn't die as early as my father because I do not drink or smoke. And I have the benefit of medical advancements that have helped me overcome pre cancerous colon polyps that were not available at the time of my mother's illness.
The older I get the less inclined I am to pass judgment on others, especially my parents. The only thing that puzzles me is the drinking that took place. There has to be a reason why so much of it went on. One possibility is that it wasn't until December 1933 that Prohibition ended in America. Drinking became legal again. I can imagine people living it up and drinking freely and fully.
Or, maybe drinking was, as it is today, a way to escape the stress of life. Even though my parents were doing well for themselves, there was always the worry that it would be seriously disrupted by economic depression and war. I don't believe my father would have been immune from this threat, especially working for Studebaker, which had a history of ups and downs as a car manufacturer.
Or, maybe right from the beginning my father had some chronic illness that was exacerbated dramatically by smoking and drinking. Who knows.
As for my mother, I'm proud of her. She manifested confidence to leave her marriage and strike out on her own. I relate to my mother. When it's time to move on, I've never had a problem doing it.
So ends 48, 58, and 68.